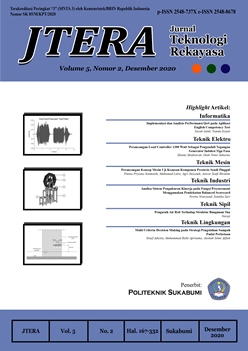 JTERA (Jurnal Teknologi Rekayasa) is peer-review journal providing original research papers, case studies, and articles review in engineering technology field. The journal can be used as an authoritative source of scientific information for researchers, researcher academia or institution, industrial engineer, and government agencies. Paper topics of JTERA focused on engineering including informatics engineering, computer engineering, electrical engineering, mechanical engineering, industrial engineering, civil engineering, environmental engineering, and other topics related to engineering. JTERA is published by Politeknik Sukabumi and managed to be issued twice in every volume on June and December. This journal has been registered at ISSN 2548-737X (printed version) and ISSN 2548-8678 (online version). JTERA has been accredited Grade "3" (SINTA 3) by Ministry of Research, Technology, and Higher Education of Republic of Indonesia with Decree No. 30/E/KPT/2018 October 24, 2018 and Decree No. 85/M/KPT/2020 April 1, 2020.
JTERA indexed/abstracted by:
Google Scholar
GARUDA (Garba Rujukan Digital)
Indonesia One Search (IOS)
Science and Technology Index (SINTA)
Index Copernicus International (ICI)
Directory of Open Access Scholarly Resources (ROAD)
etc.
Announcements
JTERA Editorial Team invites to all prospective authors to submit full paper through online submission
[HERE]
.
The scopes of accepted papers are:
Informatics, Computer Engineering, Electrical Engineering
Mechanical Engineering, Industrial Engineering
Civil Engineering, Environmental Engineering
Submission deadline: October 31, 2023. See Important Dates. 
Before submission please make sure that your paper follows the journal template, author guidelines, and contains JTERA substance guidelines (DOWNLOAD HERE). This will ensure fast processing and publication. Any papers not fulfilling the requirements based on the guideline to authors WILL NOT BE PROCESSED.
Vol 7, No 2: December 2022
JTERA Vol. 7 No. 2 has been officially published. This edition contains 20 articles, 69 authors, and 17 affiliations.
The participated affiliations are Politeknik Negeri Bandung, Universitas Pancasila, Politeknik Negeri Sriwijaya, Politeknik Indramayu, Politeknik Sukabumi, Politeknik Negeri Subang, Institut Teknologi Telkom Purwokerto, Universitas Jenderal Achmad Yani, Institut Teknologi Sepuluh Nopember, STMIK LIKMI Bandung, Politeknik Elektronika Negeri Surabaya, Universitas Ahmad Dahlan, Politeknik Negeri Cilacap, Universitas PGRI Adi Buana, Institut Teknologi Telkom Surabaya, Telkom University, and Universitas Gadjah Mada.
Table of Contents
| | | |
| --- | --- | --- |
| | Front Cover and Preface Vol. 7 No. 2 | i-iv |
Articles
Hanny Madiawati, Asep Barnas Simanjuntak, Enceng Sulaeman, Marsani Shadra Ibnu Hibban

10.31544/jtera.v7.i2.2022.181-188

Abstract view :

164

181-188
Rian Rahmanda Putra, Indra Griha Tofik Isa, Ahmad Bahri Joni Malyan, Ema Laila, Agum Try Wardhana

10.31544/jtera.v7.i2.2022.209-216

Abstract view :

97

209-216
Felix Dionisius, Luqmanbahy Luqmanbahy, Badruzzaman Badruzzaman, Emin Haris, Agus Sifa

10.31544/jtera.v7.i2.2022.217-222

Abstract view :

96

217-222
Feni Isdaryani, Muhammad Nauval Shidiq, Yoshiadi Wicaksono, Noor Cholis Basjaruddin

10.31544/jtera.v7.i2.2022.251-258

Abstract view :

95

251-258
Sofyan Muhammad Ilman, Febi Ariefka Septian Putra, Irianto Irianto, Eka Prasetyono

10.31544/jtera.v7.i2.2022.267-274

Abstract view :

82

267-274
Lukhi Mulia Shitophyta, Zahra Lintang Cahyaningtyas, Nurul Aulia Syifa, Firda Mahira Alfiata Chusna

10.31544/jtera.v7.i2.2022.275-280

Abstract view :

99

275-280
Dianthika Puteri Andini, YB Gunawan Sugiarta, Trisno Yuwono Putro, Ryan Dwi Setiawan

10.31544/jtera.v7.i2.2022.315-322

Abstract view :

91

315-322
| | | |
| --- | --- | --- |
| | Appendix and Back Cover Vol. 7 No. 2 | v-x |