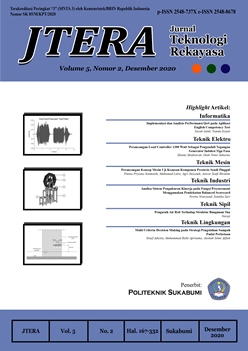 JTERA (Jurnal Teknologi Rekayasa) is peer-review journal providing original research papers, case studies, and articles review in engineering technology field. The journal can be used as an authoritative source of scientific information for researchers, researcher academia or institution, industrial engineer, and government agencies. Paper topics of JTERA focused on engineering including informatics engineering, computer engineering, electrical engineering, mechanical engineering, industrial engineering, civil engineering, environmental engineering, and other topics related to engineering. JTERA is published by Politeknik Sukabumi and managed to be issued twice in every volume on June and December. This journal has been registered at ISSN 2548-737X (printed version) and ISSN 2548-8678 (online version). JTERA has been accredited Grade "3" (SINTA 3) by Ministry of Research, Technology, and Higher Education of Republic of Indonesia with Decree No. 30/E/KPT/2018 October 24, 2018 and Decree No. 85/M/KPT/2020 April 1, 2020.
JTERA indexed/abstracted by:
Google Scholar
GARUDA (Garba Rujukan Digital)
Indonesia One Search (IOS)
Science and Technology Index (SINTA)
Index Copernicus International (ICI)
Directory of Open Access Scholarly Resources (ROAD)
etc.
Announcements
JTERA Editorial Team invites to all prospective authors to submit full paper through online submission
[HERE]
.
The scopes of accepted papers are:
Informatics, Computer Engineering, and Electrical Engineering
Mechanical Engineering, Industrial Engineering
Civil Engineering, Environmental Engineering
Submission deadline: April 30, 2022. See Important Dates. 
Before submission please make sure that your paper follows the journal template, author guidelines, and contains JTERA substance guidelines (DOWNLOAD HERE). This will ensure fast processing and publication. Any papers not fulfilling the requirements based on the guideline to authors WILL NOT BE PROCESSED.
Vol 6, No 2: December 2021
JTERA Vol. 6 No. 2 has been officially published. This edition contains 19 articles, 60 authors, and 17 affiliations.
The participated affiliations are Politeknik Negeri Bandung, Universitas Pertamina, STMIK Rosma, Lembaga Ilmu Pengetahuan Indonesia, Universitas Singaperbangsa Karawang, Akademi Komunitas Presiden, Akademi Komunitas Toyota Indonesia, Universitas Trisakti, Politeknik Manufaktur Bandung, Universitas Katolik Parahyangan, Universitas Pancasila, Universitas Ahmad Dahlan, Politeknik Caltex Riau, Universitas Jenderal Achmad Yani, Universitas Jenderal Soedirman, Politeknik Sukabumi, dan Politeknik Negeri Sriwijaya.
Table of Contents
| | | |
| --- | --- | --- |
| | Front Cover and Preface Vol. 6 No. 2 | i-iv |
Articles
Imroatus Sholikhah, Dinda Sekarsari, Almira Davina Nastiti, Nova Ulhasanah, I Wayan Koko Suryawan

10.31544/jtera.v6.i2.2021.201-206

Abstract view :

33

201-206
Dwindary Annisah, Syah Alam, Indra Surjati, Lydia Sari, Galang Trihantoro, Aulia Anindya Dhanyswari

10.31544/jtera.v6.i2.2021.253-262

Abstract view :

34

253-262
Agri Suwandi, Nicko Deva H., Rizki Nuryadin, Eka Maulana, Budhi M. Suyitno

10.31544/jtera.v6.i2.2021.285-296

Abstract view :

28

285-296
| | | |
| --- | --- | --- |
| | Appendix and Back Cover Vol. 6 No. 2 | v-x |