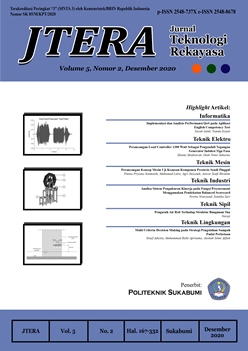 JTERA (Jurnal Teknologi Rekayasa) is peer-review journal providing original research papers, case studies, and articles review in engineering technology field. The journal can be used as an authoritative source of scientific information for researchers, researcher academia or institution, industrial engineer, and government agencies. Paper topics of JTERA focused on engineering including informatics engineering, computer engineering, electrical engineering, mechanical engineering, industrial engineering, civil engineering, environmental engineering, and other topics related to engineering. JTERA is published by Politeknik Sukabumi and managed to be issued twice in every volume on June and December. This journal has been registered at ISSN 2548-737X (printed version) and ISSN 2548-8678 (online version). JTERA has been accredited Grade "3" (SINTA 3) by Ministry of Research, Technology, and Higher Education of Republic of Indonesia with Decree No. 30/E/KPT/2018 October 24, 2018 and Decree No. 85/M/KPT/2020 April 1, 2020.
JTERA indexed/abstracted by:
Google Scholar
GARUDA (Garba Rujukan Digital)
Indonesia One Search (IOS)
Science and Technology Index (SINTA)
Index Copernicus International (ICI)
Directory of Open Access Scholarly Resources (ROAD)
etc.
Announcements
SEMNASTERA (Seminar Nasional Teknologi dan Riset Terapan) merupakan suatu forum satu tahunan yang diselenggarakan oleh Politeknik Sukabumi untuk kegiatan deseminasi hasil-hasil penelitian. Forum ini dapat dijadikan ajang bertukar informasi dalam bidang teknologi dan riset terapan bagi. Kami mengundang kepada para akademisi, peneliti, praktisi industri, maupun instansi pemerintahan untuk dapat berpartisipasi baik sebagai pemakalah maupun peserta non-pemakalah. Tahun ini merupakan penyelenggaraan SEMNASTERA ketiga yang mengangkat tema "Mempersiapkan Teknologi dan Riset Terapan Yang Inovatif Dalam Menghadapi Tantangan Pembangunan Pasca Pandemi". Mengingat belum berakhirnya masa pandemi Covid-19, pelaksanaan seminar pada tahun ini diselenggarakan secara virtual (online). Dengan adanya kegiatan seminar ini diharapkan dapat memberikan kontribusi bagi perkembangan ilmu pengetahuan dan teknologi.
Informasi lebih lanjut dapat diakses [DISINI].
Vol 6, No 1: June 2021
JTERA Vol. 6 No. 1 has been officially published. This edition contains 21 articles, 77 authors, and 11 affiliations.
The participated affiliations are Politeknik Manufaktur Bandung, Politeknik Negeri Jakarta, Institut Teknologi Telkom Purwokerto, Universitas Trisakti, Universitas Pertamina, Universitas Singaperbangsa Karawang, Universitas Pancasila, Politeknik Negeri Bandung, Universitas Nusa Cendana, Universitas Kristen Indonesia Toraja, and SMK YP Fatahillah 1 Kramatwatu.
Table of Contents
| | | |
| --- | --- | --- |
| | Front Cover and Preface Vol. 6 No. 1 | i-iv |
Articles
Ismail Rokhim, Pipit Anggraeni, Hilda Khoirunnisa, Hilman Mujahid Purnama

10.31544/jtera.v6.i1.2021.7-14

Abstract view :

164

7-14
Budi Setiadi, Tata Supriyadi, Ridwan Solihin, Varian Andika Wijayakusuma, Fryma Zhafran Raihan, Muhammad Rawdoh

10.31544/jtera.v6.i1.2021.31-40

Abstract view :

152

31-40
Abyanuddin Salam, Ismail Rokhim, Hadi Supriyanto, Fitria Suryatini, Andri Wiyono

10.31544/jtera.v6.i1.2021.53-60

Abstract view :

152

53-60
Rika Chairani, Aulia Risky Adinda, Dennis Fillipi, Muhamad Jatmoko, I Wayan Koko Suryawan

10.31544/jtera.v6.i1.2021.139-146

Abstract view :

193

139-146
Sarjono Wahyu Jadmiko, Luthfi Aditya Suyitno, Fadhlan Muhammad Lukman, Benjamin Tazaka Geronimo Gibran

10.31544/jtera.v6.i1.2021.155-162

Abstract view :

138

155-162
| | | |
| --- | --- | --- |
| | Appendix and Back Cover Vol. 6 No. 1 | v-x |